AE at the NYCC
Yvel, Joe, Kep! and I will be signing copies of the AE trade at the New York Comic Con this weekend. We'll be at the Dark Horse booth from 6-7 pm on Friday, and Yvel will be in Artist's Alley all weekend.
There should be copies of the trade available at the Dark Horse booth and throughout the con, for those who haven't picked up their copy yet!
Buying the AE trade
The best way to support ARCHENEMIES is to run out and buy the trade at your local comic book shop. How do you find your local comic book shop? Try the Comic Shop Locator...
If there's no local store available, you can order the book off Amazon or TFAW.com.
ARCHENEMIES on Revver
How I spent my weekend:
Or link to it on YouTube at http://www.youtube.com/watch?v=81_TAXmzSfs.

I'm a Giddy Little Girl
A quick ARCHENEMIES-related announcement:


You can order the trade from TFAW.com or Amazon or from the fine folks at your friendly neighborhood comic shop.
Oh! And here's an AE fun fact for you: BuyDomains.com currently owns the ArchEnemies.com domain name, but they're willing to sell it to me for a mere $24,000! (Or, if I act quickly, only $20,4000!)
Now, obviously I already have a website set up for AE at ArchEnemiesOnline.com, so I'm not in a rush to pick up another URL. But if you've got some extra cash this holiday season, and if you're sick of giving it to the poor and dispossessed, please consider my humble little cause.
The Rumors are True
You've all heard the rumors. And, yes, they're true.
The guys who create the Venture Bros. are huge ARCHENEMIES fans.
Top left arrow: Superman without pants. Bottom arrow: Wolverine-looking guy. Top right arrow: BAM! ARCHENEMIES comic. Or, um, "ARCH ENEMY" comic. Or something like that.
Okay, maybe it's just a coincidence.
ARCHENEMIES collected
The first AE trade won't be in comic shops until January 31st, but it's already available for pre-order in the latest issue of PREVIEWS (order code SEP06 0020) or online through tfaw.com.
Here's our dynamite cover by series artists Yvel Guichet and Joe Rubinstein:
Click the image to visit the volume's page on DarkHorse.com. And please visit the official website at ArchEnemiesOnline.com.

ARCHENEMIES #4, TPB, etc.
Just saw the final cover to our first ARCHENEMIES trade, and it is gorgeous. The trade hasn't been scheduled yet, and I can't show you the cover, so let me pimp ARCHENEMIES #4 instead: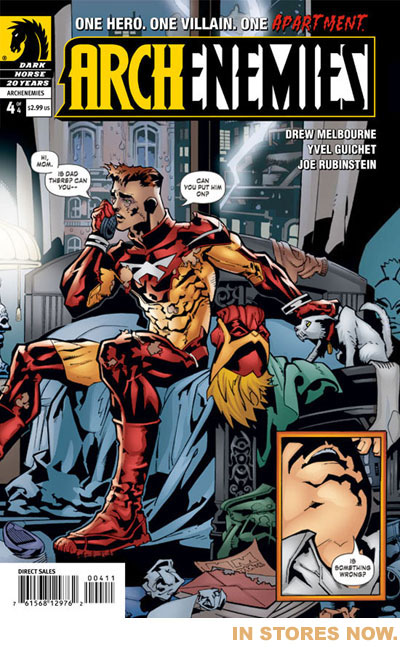 The last issue of our first mini shipped last week, and it is BY FAR my favorite so far. Which means some folks'll hate it! Here's some art: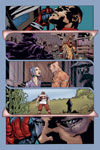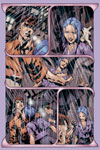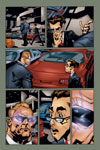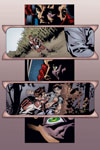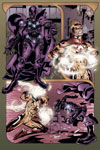 You can preview the first few pages at ArchEnemies Online.
As I mentioned, we're working on the trade now, and I'll be announcing a release date just as soon as I have that sorted with Dark Horse.
Buy ARCHENEMIES #3
The third issue of Dark Horse Comics' ArchEnemies is in stores now.
If you're not reading ArchEnemies, you're missing out on the comic that Silver Bullet Comic Books gave "four bullets" and that the Onion's AV Club grades higher than Infinite Crisis OR Civil War.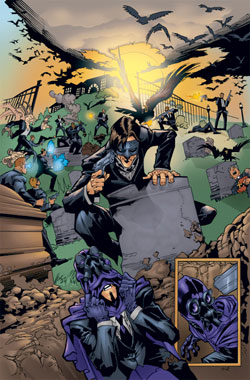 In issue three, roommates Ethan Baxter and Vincent Darko still haven't realized that they're archenemies in their super-powered guises. They just know that they hate each other! But when tragedy strikes, comicdom's ultimate odd couple must set aside their differences to hit the road and . . . move into a mansion??
PLUS: Vincent has a cute sister, Ethan has a nightmare, and Star Fighter and the Underlord go head-to-head in the middle of an impromptu gang war. If you like fights, laughing, or stories about people, you MUST read this comic!
As always, check out the dedicated ArchEnemies website for previews, ordering info, etc.

I Smell a Meme
Take your pick, America:


Whose Side Is ARCHENEMIES On?
ARCHENEMIES #2 is in stores now, but it's NOT the only new book out this week! You may not know this, but an obscure indie publisher called "Marvel Comics" has just released a little something called CIVIL WAR.
Now, we would never accuse the fine folks at Marvel of plagiarism, but we've been asking our readers to take sides for a whole MONTH now. In fact, we like to think of ourselves as the experts.
So, in a spirit of "not legally actionable" fun, I sat down with our leads, Ethan and Vincent, to ask THEM the same question that everyone seems to be asking these days:

http://archenemiesonline.com/whoseside.html
(My apologies, in advance, to Mr. Millar.)
ARCHENEMIES #2, in stores today!
Today Dark Horse Comics is releasing the second issue of ArchEnemies -- the off-beat new series about a hero and a villain who don't realize that they're roommates in their secret identities.
If you skipped ArchEnemies 1, you're missing out on an experience that Aint It Cool News calls "funny" and "unique" and that BrokenFrontier.com raves is "deviously twisted"!
So what can you look forward to in issue two?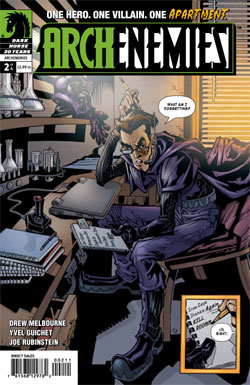 Well, Vincent Darko may be a criminal genius, but he still hasn't figured out that his slobby roommate, Ethan Baxter, is also his sworn enemy, Star Fighter. So why has Vincent vowed that Ethan Baxter must die??? Can Ethan survive Vincent's gantlet of deathtraps with his secret identity intact? Will Vincent slip up and spill his own secret along the way?
Look for the answers to all these questions, PLUS: young love, senseless violence, casual vandalism, betrayal, fasion tips, and -- before it's all over -- one dead body.
And, as always, the back of the issue is crammed with a whole heaping of extra features, including cartoons, essays, and your letters.
Pick up a copy of our second issue this week, and find out why acclaimed comic book writer J.M. DeMatteis calls ArchEnemies "a book to watch"!
And visit ArchEnemies for character profiles, previews, and behind-the-scenes features.
AE interview at Geek4x4.com
Go to Geek4x4.com to download their podcast interview of me. We talk about ArchEnemies, Heroes of Tomorrow, Scryptic, "the comic book that will end my career," and other wackiness.
And yes, unfortunately, I do really sound like that.
Zero Hour is Upon Us
Comic's out tomorrow: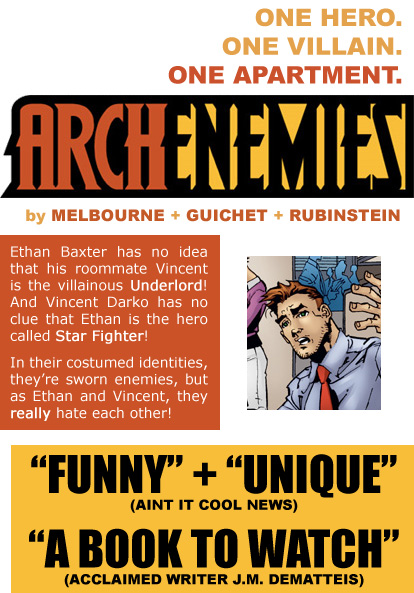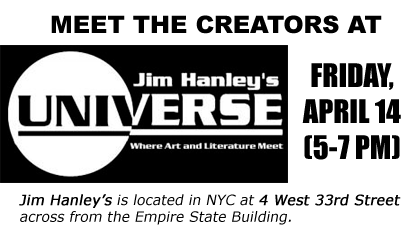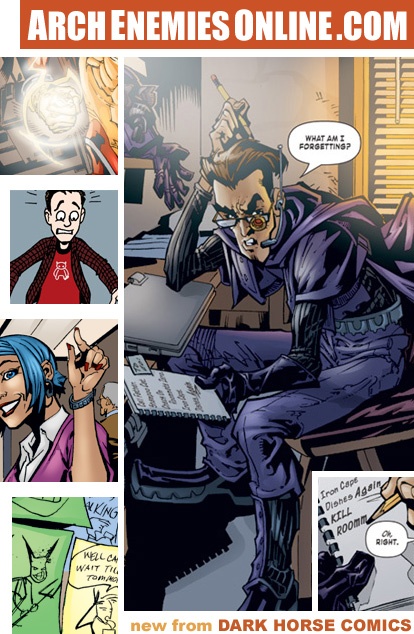 Secret Origins of ARCHENEMIES, Part 5
New at Scryptic:

ArchEnemies #1 will be out April 5th! In the mean time, check out the final part in this series, recounting the series' journey from concept to almost certain to published comics series!
Read it here.
Read Part 1 here.
ARCHENEMIES: Making a Comic
http://www.darkhorse.com/downloads.php?did=501
ArchEnemies #1 arrives in stores on April 5th, but you can preview six pages from our debut issue TODAY! And as a special treat to all the aspiring comic creators out there, our preview includes a special behind-the-scenes look at every stage in the production process: from script to pencils to inks to colors to finished, lettered pages:




Go NOW!
Secret Origins of ARCHENEMIES, Part 4
New at Scryptic:

In Part 4 of this multi-part series, I revisit an old column and reveal how it connects to my upcoming Dark Horse series, ARCHENEMIES. PLUS: convention news!
Read it here.
Read Part 1 here.
New AE Web Ad
Created for the Trish MySpace page: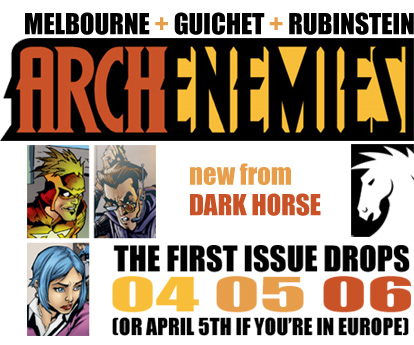 And a reminder: Trish updates her blog every Friday.
Perspectives on AE
http://larameekidd.com/index.php/josh/2006/02/07/how-to-survive-a-bad-roommate/
If you want to read an all together different take on the origins of ArchEnemies, look no further than this blog maintained by an old friend from college.
I have no official comment at this time.
Secret Origins of ARCHENEMIES, Part 3
New at Scryptic:

In Part 3 of this multi-part series, I continue to trace the development of his upcoming Dark Horse comic. If you thought I made the pitch process look easy in his last installment, don't worry: this week I talk you through the low points.
Read it here.
Read Part 1 here.
Secret Origins of ARCHENEMIES, Part 2
New at Scryptic:

The second part of a multi-part series, tracing the roots of my upcoming Dark Horse Comics series. This week, I explain how the creative team came together, introduce the world to the phrases "writer stew bait" and "new comic alarm," and reveal whether Kurt Busiek is about to sue me for everything I'm worth.
Read it here.
Read Part 1 here.
AE in PREVIEWS
The latest edition of the Previews comics catalog shipped today, and the first issue of ArchEnemies is prominently featured, with an ad on the table of contents page and a two page spread on pages 26 and 27.
The order code for AE #1 is FEB06 0051.
You can also order AE through TFAW.com.
AE invades MySpace!
http://www.myspace.com/trishdarrow

For those interested in getting a sneak peek into the world of ARCHENEMIES, here's our exclusive AE/MySpace guerilla site.
Who is Trish, and why should you care? Read her blog, and check out exclusive ARCHENEMIES preview images. Look for regular updates to this site over the next few months.
And if you have a MySpace account, be sure to "add" Trish as a friend!
Secret Origins of ARCHENEMIES, Part 1
New at Scryptic:

For anybody who's always asking the question, "How do I break in?" here's the inside scoop on how ARCHENEMIES went from being a funny one-liner to a big time mini-series from Dark Horse Comics.
Plus: Is ARCHENEMIES doomed? Only Kurt Busiek knows for sure.
This is part one of a multi-part series.
Read it here.
AE + DHC = Crazy Delicious

Finally the truth can be told:

ARCHENEMIES #1
Written by Drew Melbourne, penciled by Yvel Guichet, inked by Joe Rubinstein, colored by Rick Hiltbrunner, lettered by Jim Keplinger.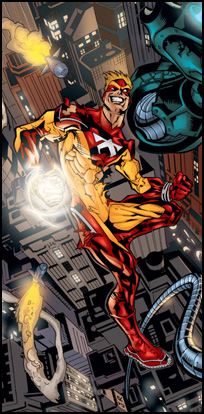 Ethan has no idea that Vincent, his roommate, is the villainous Underlord. Vincent has no clue that Ethan is the superhero called Star Fighter. In their costumed identities, they're mortal enemies, but as Ethan and Vincent they're the best of . . . wait, NO, as Ethan and Vincent they still hate each other's guts.
Can comics' ultimate, super-powered odd couple keep their secrets secret and learn to live together in peace? ArchEnemies is high-concept superhero action comedy drama times eleven. In our debut issue, it's a battle of wills as Ethan and Vincent try to drive each other out of the apartment and off the lease. But, in a moment of weakness, will one roommate go too far? [SPOILER ALERT: Yes. Yes, he will.]
32 pages, $2.99, in stores on April 5.
Monthly from Dark Horse. More hype to follow.
The AE Countdown
I know people are probably sick of me talking about ArchEnemies, since I've barely hinted at what the comic is actually about! (Nothing like being loquacious, but vague.) But if my math is right, we're approximately 18 days away from a big, splashy announcement, and I can offer a few hints:
I promised that AE would ship from a major publisher, and it will. By "major," I mean one of the big four. (By process of elimination, you can probably figure out which one.)
And I've just received word that we're getting a TWO-PAGE SPREAD in the February issue of Previews. Those who know the comics business will know that this is a big deal.
More news, including when ArchEnemies Online goes live, in the next couple weeks.
No MarchEnemies, but...
I still can't announce the publisher, but I can tell you that ArchEnemies #1 is due to hit stands April 5th. (Which means it that you will order it in February.)
Not an Excerpt
My latest column at Scryptic features an excerpt from an alternate reality version of the script for ArchEnemies #3, due out next year.
That's right! You lucky people get to check out an excerpt from an imaginary script for a comic that won't be out this year! But, hey, if you're a script geek, at least it's a chance to see my funky page/panel decimal system of doom.
Waiting for the check to clear
I have received and deposited a paycheck for the first issue of ArchEnemies. Yes, the book is creator owned, but the company that publishes the book pays a page rate nonetheless. (Yes, that's a hint.)
On the list of "No, wait is this for real?" moments, "waiting for the check to clear" comes after "editor emails me back," "editor gets sign off from boss," "contract arrives," "contract get signed by XXXX XXXXXXXXXX," and "issue one gets penciled," and before "check ACTUALLY clears," "issue one is put to bed," "series is announced," "series is solicited," and "I can hold the darned thing in my hands."
But, yeah, I'm feeling pretty good right now.
AE Promo
Check out ArchEnemies Online for a surreal promo image for my upcoming comic series, ArchEnemies. We're targeting a January release from Mystery Publisher X, which means that there should be a big announcement sometime in October or November.
ArchEnemies
Star Fighter and The Underlord are mortal enemies with more in common than they think.
ArchEnemies is a high-concept dramatic comedy drawn by Yvel (JLA, Aquaman) Guichet and inked by Joe (practically every comic at some point) Rubenstein.
The letters and logo design are by Jim (Small Gods) Keplinger. Colors are by Rick (ATP Presents) Hiltbrunner.
ArchEnemies has a publisher! Look for a big announcement this fall.